I created these fun key labels to help younger kids become familar with the layout of the piano keyboard. They are brightly coloured to assist with learning and creativity.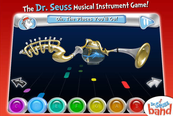 The colours chosen match up with the Dr Seuss Band app which makes it easy for kids to transition from playing the game to playing on an actual keyboard.  I hope to upload some starter songs that can be used with the key labels so watch this space...
You can download the free template with instructions on how to use it here. Happy playing!
Piano Key Labels
FREE printable piano key labels for beginners.
Key_Labels.pdf
Adobe Acrobat Document
46.3 KB